Gerontocracy Prime Minister Tun Dr Mahathir Mohammad who also PPBM Chairman made a call for all the various Malay political parties be combined and consolidated as a unified Malay party, "For common good".
The Star story:
JOHOR BARU: Tun Dr Mahathir Mohamad is urging Umno members to join Parti Pribumi Bersatu Malaysia.
The Bersatu chairman said that even if the party is strong, one which deviates would still be rejected by the people.
"Johor used to be an Umno stronghold, but after Umno lost its direction, we have been able to make inroads into the state," he said during the state Bersatu's Hari Raya celebrations held in Taman Johor Jaya here on Friday (July 5).
Dr Mahathir said Umno used to be the only Malay-based party but things were different now as the community is split six ways between as many political parties.
He stressed that it was important for the Malays to unite, as the six political parties were only able to amass 10% of support each and needed assistance from others.
"Those days, I was rooting for the Malays to join Umno but now I am calling them to join Bersatu," he said.
Dr Mahathir said there are already moves to set up more Malay-based parties, which would increase the number up to 10.
He said this would further split up and weaken the Malays.
When asked if a move to invite former Umno members to join Bersatu would cause friction within Pakatan Harapan, Dr Mahathir shrugged it off and said this was not a concern as they are free to look for new members.



Read more at https://www.thestar.com.my/news/nation/2019/07/05/dr-m-urges-umno-members-to-join-bersatu/#pwCbf4ECzfELySkK.99
**********
This came after the clear 'line of succession' in the minds of many about Gerontocracy Prime Minister is having his own agenda for a successor and not 'Anwar "Mat King Leather" Ibrahim' as Malaysians made to believe as part of the deal of PH taking charge of the Federal Government post 9 May 2018.
However, that point hit a very serious glitch a few weeks ago with the 'shocking Semburit' video revelation.
The presumed 'plan B' which is to bring Minister of Economic Affairs Azmin Ali into the direct line of succession has now believed to be scuttled.
Joceline Tan's weekly political analysis column on The Star story:
The beleaguered Datuk Seri Azmin Ali seems to have the support of the most influential man behind the Prime Minister but the burning question is why the police investigation into the sex video is taking so long.
THE Hari Raya open house of Datuk Seri Azmin Ali was one of the grandest he has hosted in his political career.
There were thousands of guests at his official residence in Putrajaya but notably absent were many of the top PKR figures, including party president Datuk Seri Anwar Ibrahim and Deputy Prime Minister Datuk Seri Dr Wan Azizah Wan Ismail.
The Azmin team has been seething over the sex video issue and had apparently "rescinded" – the term used by the team – invitations sent out to PKR's power couple.
Several PKR leaders and journalists who received formal invitations to the open house were also informed a few days before the event that they had been uninvited.
The move was the talk of PKR circles because to be uninvited is unusual to say the least.
It was a rather petty and childish move but it showed how angry the Azmin team is about what they see as a plot to destroy their boss.
The video implicating Azmin in a sex tryst does not seem to have affected his appeal if the crowd at the open house was anything to go by.
But it was the presence of Tun Daim Zainuddin, arguably the most influential man behind the Prime Minister, that sent a potent signal that evening.
The low-profile tycoon, who arrived with his wife, was in one of his ill-fitting shirts that looked two sizes too big for him and which almost reached his knees.
Daim's silence on the video issue has been read as a sign of disapproval but his appearance that evening gave Azmin a much-needed boost.
The Azmin team is elated because they think that their man now not only has the support of the Prime Minister but also an influential man behind the Prime Minister.
Azmin also crossed an important hurdle last week when the police established that the bank transaction documents in the video accusing Azmin of corruption were forgeries.
It would be tempting to think that the worst is over for Azmin, that the issue seems to be tapering off rather than escalating.
But this is one sex scandal that just won't go away yet.
"Nothing ever disappears once it gets into the Internet," said political commentator Tawfik Ismail.
The hidden hands behind the expose have been relentless, systematically releasing more videos related to the sex allegations that are aimed at shaping public opinion.
There have also been protests calling for Azmin's resignation and labelling him a "semburit" or homosexual.
"Azmin has survived as a Cabinet member but to go a step further, that is out of the question for now," said a political insider.
In that sense, the "vicious libel", as Azmin calls it, may have disqualified him as a prime minister candidate in the foreseeable future.
Many have noted the lack of outrage or urgency like when Anwar was slammed with all manner of sex-related accusations 20 years ago.
Lawyer Khaw Veon Szu said people are simply tired of the constant politics.
"Things like the rising cost of living are more worrying to them. I sense people are also disgusted with this kind of politics," said Khaw.
Back in 1998, Anwar came under fierce attack from the mighty Barisan Nasional while the Opposition, especially PAS, rallied to his support.
This time, the Opposition has gone to the sidelines to watch the show while those within Pakatan Harapan pretend that all is well, reluctant to judge or to show support for Azmin.
But the burning question at this point in time is the progress of the police investigation.
The impression, said Tawfik, is that the police seem to be tip-toeing around the matter.
This is a politically sensitive case and the first big test for Inspector-General of Police Datuk Seri Ab­­dul Hamid Bador since his appointment.
He probably does not wish to make any missteps and has promised not to pressure the special taskforce set up to look into the case.
Azmin loyalist Dr Afif Bahardin has urged the police to also investigate the mastermind behind the accuser Haziq Abdullah Abdul Aziz, who is clearly not acting alone.
"We must identify who is behind it. These are dangerous people especially if they are bidding for power," said Afif, who is also a Seberang Jaya assemblyman.
The police have kept a tight lid on their probe, including the all-important question of whether the video is authentic or a deepfake.
The veil over the investigation has also generated all kinds of rumours, including claims that there will be a cover-up.
The fact that the Prime Minister has pre-empted things by saying that he does not believe the allegations and declaring the video fake does not make things easy for the investigators.
Those critical of the way the issue is being handled complain that Dr Mahathir has unfairly set the tone and that his statements are the soundbites that people will remember.
"Who would dare go against the narrative of the No. 1?" said a PKR division chief.
As of now, even the most seasoned of politicians are unable to predict how this issue will turn out.
What is clear though is that it has dented Pakatan's image.
The ball is at the feet of the special police taskforce.
Joceline Tan was an associate editor of The Star and continues to contribute political analyses. The views expressed in this article do not necessarily reflect the views of The Star.

Read more at https://www.thestar.com.my/opinion/columnists/analysis/2019/07/07/video-casts-a-shadow-over-azmin/#ZYOg2QVzZ3zmChIj.99

***********
This is the same day Phillip Golingai made the analaysis of Azmin's strength.A crack in Anwar and Azmin's relationship
It seems that these two politicians, like most divorced Hollywood superpower couples, face irreconcilable differences.
LAST Sunday, an infographic showing where the 50 PKR MPs purportedly stood in the party's civil war went viral on the WhatsApp platform. Team Anwar (PKR president Datuk Seri Anwar Ibrahim) had 45 MPs while Team Azmin (PKR deputy president Datuk Seri Azmin Ali) had five.

That night at a cafe in Petaling Jaya, I was having coffee with PKR friends who were in the middle leadership of the party. I asked them how accurate was the infographic
"This one is ours, this one, this one, this one, this one has left, this one with us, this one has left, this one is loyal," said a PKR Supreme Council member, who is with Team Azmin, as he went through the faces of the MPs marked as Team Anwar on the infographic.

"Fifteen MPs plus Azmin, that's 16 PKR MPs with Team Azmin," he said. "Those who are 100% committed. The 50/50 MPs will follow when Azmin becomes DPM (Deputy Prime Minister)."
The infographic turned out to be propaganda to falsely show that Azmin is losing support. It tried to give the impression that rats were abandoning the sinking Azmin ship torpedoed by a sex tryst video scandal.
The PKR Supreme Council member admitted that after the fractious PKR polls in November, a federal minister and a deputy minister have jumped ship and have joined Team Anwar. But he said it was expected as these leaders are lalang (weeds).
On Tuesday, a new infographic went viral. This time Team Azmin had an extra "MP" – Haziq Abdullah Abdul Aziz. (Sometimes, I'm amazed by Malaysians' sense of humour.)
We also discussed the contrasting style of Azmin and the mastermind of the plot to bring down the Economic Affairs Minister who Haziq (since sacked as PKR Santubong Youth Chief) alleged is the man with him in the sex video shot in a hotel on May 11. Azmin is "quiet" while the plotter is "noisy".
Azmin is trying to keep the noise level of the scandal to a minimum. He is not giving sound bites so that the story will die a natural death. Anyway, Malaysians mudah lupa (quickly forget) and some are getting tired of the scandal's sordid nature. He is trying to portray that he is all work, focusing on improving the country's economy.
The nefarious plotter is keeping it noisy through timed exposes, such as the latest video clip allegedly showing the movements of Azmin and Haziq on the 20th floor of the hotel where the video was allegedly made and of youth protesters asking Prime Minister Tun Dr Mahathir Mohamad to sack Azmin.
"Azmin is quiet. That is his nature. He is meticulous in his thinking. And he makes his moves quietly. When he hits his enemies, they won't know what hit them. He is a silent 'killer'," said the PKR Supreme Council member.
"X (the nefarious plotter) is very noisy. He will make so much noise that you would know that he is coming for you."
The sex scandal has injured Azmin politically. He is bleeding but it is not a fatal stab, yet.
Will Azmin survive?
It all depends on whether he has the backing of the Prime Minister. So far it looks like Dr Mahathir is standing by his man.
The PKR supreme council member predicted that when things quiet down – say around Hari Raya Haji next month – we might see a new Deputy Prime Minister.
We also discussed how the not-in-the-know public assumed that Azmin is an ungrateful, ambitious politician who has betrayed his political mentor, Anwar, several times to climb the ladder of power.
Like a coin, there is another side to the story. It seems Azmin felt that Anwar had betrayed him three or four times.
I related to my coffee mates what a PKR founding member told me last year when the PKR deputy president race was heating up, and Anwar was seen as supporting Rafizi Ramli against Azmin.
"When Pakatan Rakyat won Selangor in 2008, Azmin should have been the Selangor Mentri Besar. He was the Selangor PKR chief but instead, the party leadership put up Tan Sri Khalid Ibrahim who was a nobody back then," the PKR founding member told me.
"After Pakatan Rakyat won Selangor for the second time in 2013, they again appointed Khalid as Selangor Mentri Besar. Naturally, Azmin should have been the Mentri Besar as he was Selangor PKR chief and deputy president of the party."
He continued: "When they removed Khalid as MB, instead of putting Azmin in, they first tried with Anwar and then Datuk Seri Dr Wan Azizah Wan Ismail as MB candidate. Eventually, Azmin became the Mentri Besar."
In the PKR polls in 2014 and 2018, the PKR supreme council member said there were attempts to unseat Azmin as party deputy president. In 2014, it was Khalid and Datuk Seri Saifuddin Nasution Ismail trying it and in 2018, it was Rafizi.
From Anwar's side of the coin, Azmin is seen as defying the party leadership when he "took" the Selangor MB post from the then PKR president Wan Azizah. He also managed to bulldoze his choice of replacement – Amirudin Shari – to replace him instead of the party leadership's pick, Dr Idris Ahmad. Azmin also managed to get himself appointed to the powerful post of Economic Affairs Minister.
Some describe the decades-long relationship between Anwar and Azmin – which began when the former was Deputy Prime Minister and the latter was his private secretary – as "retak menanti belah" (a crack waiting to split). It seems they, like most divorced Hollywood superpower couples, face irreconcilable differences.
Last Sunday, the big news of the day was that Datuk Seri Dr Ahmad Zahid Hamidi quit his six-month-long garden leave to return as Umno president.
This is a bukan biasa biasa (a Datuk Seri Najib Razak catchphrase which means "not the usual") manoeuvre. Some read it as a move by Umno leaders aligned with Team Anwar to wrest back control of the party, which has been seen as leaning toward Dr Mahathir under the leadership of Umno Deputy President Datuk Seri Mohamad Hasan.
From talking to Umno leaders, out of the remaining party 37 MPs, about 10 are with the group that favours Anwar as Prime Minister.
In this Malaysian version of House Of Cards, it is a numbers game. Whoever has the most MPs will rule the country.
Just like that fake infographic on which side the PKR MPs are with, Team Anwar might have fewer MPs than claimed.

Read more at https://www.thestar.com.my/opinion/columnists/its-just-politics/2019/07/07/a-crack-in-anwar-and-azmins-relationship/#T05mm3QS03YZjfw5.99
************
There is a very interesting twist in the development, we regards to consolidating the Malay strength at the Parliamentarian Level without taking the true grass root support base which supposed is being represented by these MPs.
Quite a week ago, UMNO President Dato' Seri Ahmad Zahid Hamidi made the pronouncement that he back in full party active service after a hiatus of seven months, of his he asked Deputy President Dato Seri Mohamad Hj Hassan to take over the duties of the President.
Hardly in six days, former President Dato Seri Mohd Najib Tun Razak sternly urges UMNO at all levels to stand up and give a strong support to President Zahid.
MKini story:
Najib: Terima kepimpinan Zahid, jangan buat huru-hara dalam Umno
Alyaa Alhadjri
(Dikemaskini )
Najib Razak menggesa anggota Umno agar tidak mencetuskan "huru-hara" dalam parti itu dan menerima Ahmad Zahid Hamidi yang kembali sebagai presiden.
Bekas presiden Umno itu berkata, mana-mana anggota yang tidak gembira dengan kepulangan Zahid perlu menunggu beliau menghabiskan mandatnya selama tiga tahun.
"Beliau balik sebagai presiden sebab dia ada mandat sampai tiga tahun. Kita terima (kepulangannya). Kalau kita tak suka, kita tunggu tiga tahun.
"Tapi jangan buat huru-hara dalam parti, jangan ada kem dalam parti," katanya ketika menlancarkan mesyuarat Umno Setiawangsa hari ini.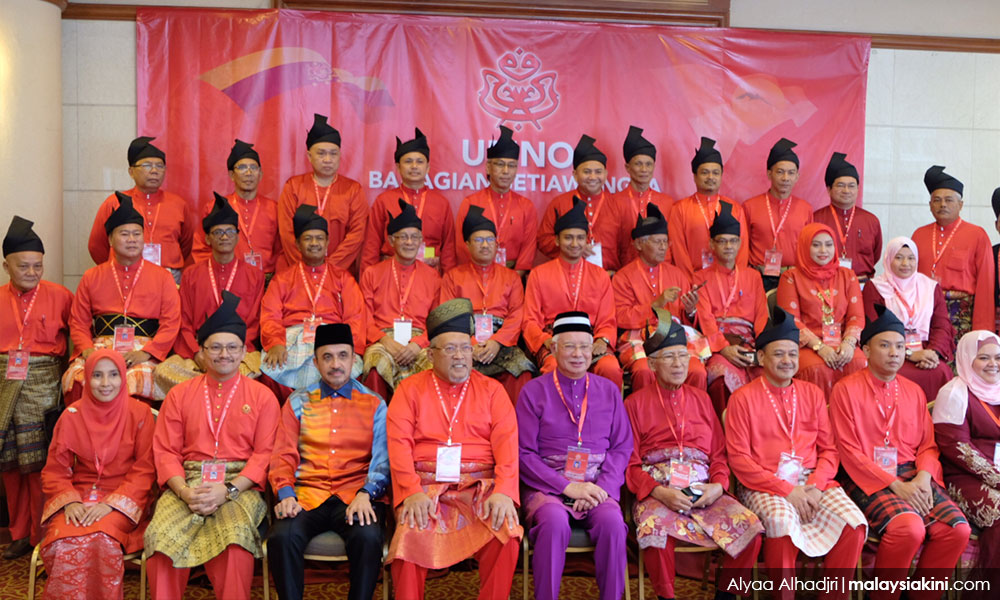 Beliau turut menggesa anggota Umno agar bersatu "demi rakyat Malaysia" dan memberi perhatian kepada isu berkenaan rakyat, bukannya soal dalaman parti.
Mengulang dakwaan kegagalan kerajaan menunaikan janji manifesto, beliau berkata Umno perlu bersuara dalam isu seperti penjagaan kesihatan, kos sara hidup dan peluang pekerjaan untuk mendapatkan semula sokongan rakyat.
"Biar rakyat yakin dgn kita. Kalau kita huru-hara berperang (dalam parti), rakyat tak yakin kepada kita.
"Kita nak berkuasa balik kan? Buatlah cara nak berkuasa balik, jangan bergaduh saja," katanya sambil maklum parti itu memang mempunyai sejarah kemelut dalaman antara pemimpinnya.
'Umno-PAS senjata ampuh'
Sementara itu Najib menyifatkan kerjasama parti itu dengan PAS sebagai "senjata ampuh" untuk menewaskan kerajaan PH.
"Kalau esok parlimen dibubarkan, BN dengan kerjasama PAS boleh tubuh kerajaan baru. Inilah antara senjata yang ampuh.
"Inilah perpaduan Melayu-Islam sejati yang akan menentukan masa depan kita," katanya sambil berkata kerjasama itu sudah terbukti dalam beberapa pilihan raya kecil.
Ketika ditanya pemberita kemudiannya sama ada wujud kem dalam Umno, Najib menjelaskan beliau merujuk kepada komen-komen di media sosial oleh sebilangan kecil pihak tetapi dibesar-besarkan.
"Kita mesti hentikan ini semua… Saya nak kita bersatu untuk rakyat."
Zahid menyerahkan tugas presiden kepada timbalannya Mohamad Hasan pada Disember lalu, di tengah-tengah desakan agar beliau meletakkan jawatan.
Sejumlah pihak dalam Umno ketika itu mengkritiknya sebagai gagal menunjukkan hala tuju parti, selain keluarnya beberapa anggota parlimen daripada parti itu.
Beberapa jam sebelum Zahid mengumumkan kembali bertugas sebagai presiden, bekas ketua pemuda Khairy Jamaluddin – yang dilihat rapat dengan Mohamad – berkata beliau patut mendapatkan pandangan daripada Majlis Tertinggi Umno dulu sebelum membuat keputusan.
*********
A few days earlier than the Friday UMNO Setiawangsa General Meeting, former Vice-President playing the duties of Deputy President Dato Seri Hishammuddin Hussein gathered about 20MPs at his office in Jalan Ampang Hilir for dinner and meeting.
It is not quite what actually transpired but this came quite a follow up to President Zahid's announcement of coming back into active as the elected UMNO President and the announcement at the media corner of Parliament pertaining to division of duties amongst top leadership.
Bera MP Dato Ismail Sabri shall continue as Opposition Leader in Dewan Rakyat and Dato Seri Mahadzir Mohd Khalid would be the Opposition Chief Whip.
It is not interesting to get back why Gerontocracy Prime Minister made the call about "The Malays are too fragmented" and a very interesting point that "UMNO, PAS and all Malay parties are invited to join Bersatu (PPBM)".
After it was uncovered through socmed platforms that Hishammuddin and Azmin met under the guise of 'end of year' holiday in Morocco last Christmas, many started to believe that the former engineered the 16 UMNO MPs who betrayed and crossed over from the Opposition position.
The other slowly manifesting itself as an urban legend is that Hishammuddin is engineering more cross overs, for the fortification of PPBM within the Pakatan Harapan ruling parties especially in the stand off, if and when Anwar "Mat King Leather" Ibrahim and most of PKR and the full backing of DAP decides to openly challenge Gerontocracy Prime Minister to step down and away from Federal Government.
This back-channel negotiatons and deals are supposed to provide Gerontocracy Prime Minister enough MP support to remain as a legitimate Prime Minister, even as a minority one and no other quarters within Dewan Rakyat could demonstrate they have more support from MPs to be sworn as the Eighth Prime Minister.
Of course that not withstanding the Gerontocracy Prime Minister at some point of time between now and May 2023 is able to convince His Majesty YDP Agong XVI to dissolve the XIV Parliament and pave way for a fresh General Election.
The irony to Gerontocracy Prime Minister's call in PPBM Johor on Friday is that he is probably the most notorious culprit that set the Malays, the majority of Malaysians, fragmented and splintered apart.
When he was the UMNO President, who spent his leadership years sowing hatred so that UMNO and PAS people would continuously up-at-arms as enemies.
It was under his watch that UMNO was declared illegal by Kuala Lumpur High Court on 4 Feb 1988 and there on, the Malays were split right in the middle between UMNO and Semangat 46.
Ten years later he went after Tun Abdullah Ahmad Badawi.
Ten years later, he went after Dato Seri Mohd Najib Tun Razak, successfully defeated UMNO in a GE after they refused to kow-tow to the Gerontocracy man.
It is wrong to view the Gerontocracy Prime Minister a rock solid leader. He keeps changing his mind, for the sake of political expediency. Upon hours of toppling Najib and UMNO as the ruling party, he arrogantly stated that "PH shall not accept leaders who wants to cross over".
Quite months later, it was "Non problematic leaders".
Then it became more fluid to "UMNO leaders who jump out and becomes Independent first. Then after they have repented (from their sins), they can join us".
16UMNO MPs and droves of UMNO ADUNs especially from Sabah abandoned their party.
Yet it didn't shift the ground. Only some leaders jumped out.
The fact is that, UMNO grassroot is united and steadfast in their resolution, to be part of the nationalist-Unionist party.
Despite attempts to sink UMNO, it's grassroot are very strong in having faith that their leaders would not scuttle their vessel, no matter how in trouble they are in.