The Gerontocracy Prime Minister is facing a tighter spot upon the recent first anniversary of his 'Marriage-of-(in)convenience-between-backstabbing-strange-bedfellows' ruling Government, which saw an across the board below average performance.
Needless to say the gradually the economic contraction and continuous revision of smaller economic growth and the much coveted Bursa Malaysia KLCI psychological indicator dipped 300points within then 52 weeks of Gerontocracy Prime Minister's administration.
The market is getting very edgy.
Race relations is at the lowest ebb, ever. So is the relationship between the Federal Government and the Royals.
The failure on the issues such as ICERD, resignation of His Majesty Seri Paduka Baginda Yang DiPertuan Agong XV and the summary replacement with Sultan Abdullah of Pahang, probably didn't make it better.
Gerontocracy Prime Minister's leadership and administration is seriously facing the challenges of 'Murphy's Law'.
Even the Doyen of Capital Cronyism and Chairman of the 'Majlis Orang-Orang Tua' Daim Zainuddin is not shy of sounding out Gerontocracy Prime Minister's administration.
Daim to gov't: Start trusting civil service or you'll be 'dead'
Despite the prime minister claiming that some civil servants are out to undermine Pakatan Harapan, one of his closest advisers has called on the government to trust them if it wished to ensure political longevity.
In an interview with the South China Morning Post, Daim Zainuddin went so far as to state that the government would be "dead" if it did not begin working with the country's more than 1.6 million civil servants.
"Now you are in government. When you are in government, you have to deliver. You cannot deliver by yourself. The civil servants are the implementers, not you.
"You plan policies, then you say (to the civil servants), take over.
(When) you don't trust them, they just sit down," he was quoted as saying in the interview published today.
The former chairperson of the Council of Eminent Persons claimed that many civil servants have expressed their unhappiness over the extent of political appointments in ministries.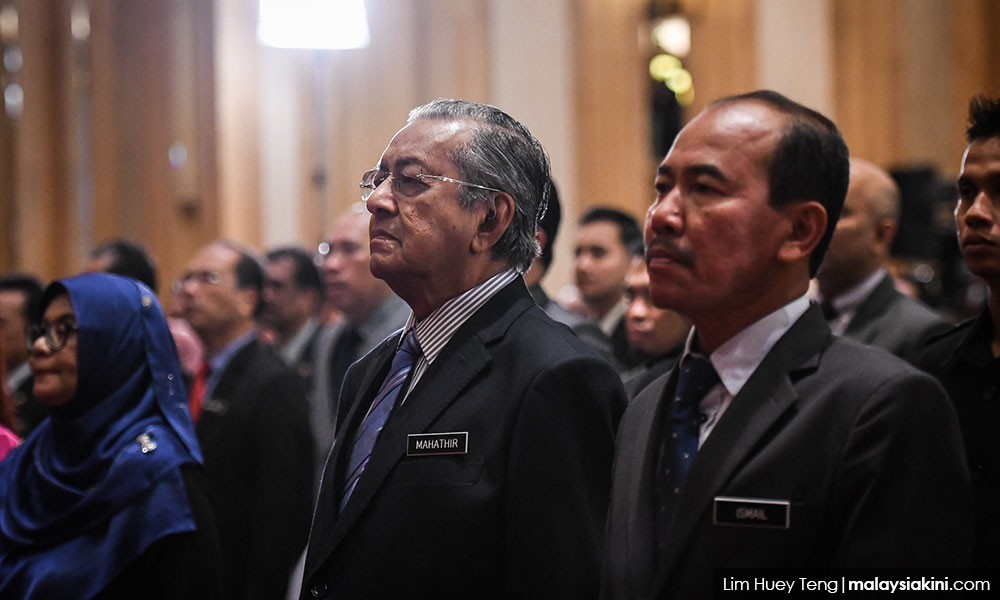 While not dismissing Putrajaya's claims of sabotage, including by Prime Minister Dr Mahathir Mohamad, Daim noted the trust deficit must be worked on.
Civil servants, he believes, are likely to back the government of the day, even if they had only served one government all this while.
"That I don't know (sabotage claims). But you have to work with (the civil service). Without them… you are dead.
"The civil servants have been coming to see me. They say 'Oh, minister doesn't trust me…' and they (the political appointees) run the ministry," he said.
"How can they run the ministry? They are outsiders. I have been telling the ministers the civil servants have been there since the British. When the British came here, they brought the civil service.
"And you try now to discard them? You cannot."
'Civil servants also voters'
Daim, who served as finance minister during Mahathir's first tenure, pointed out that civil servants and their families are also voters.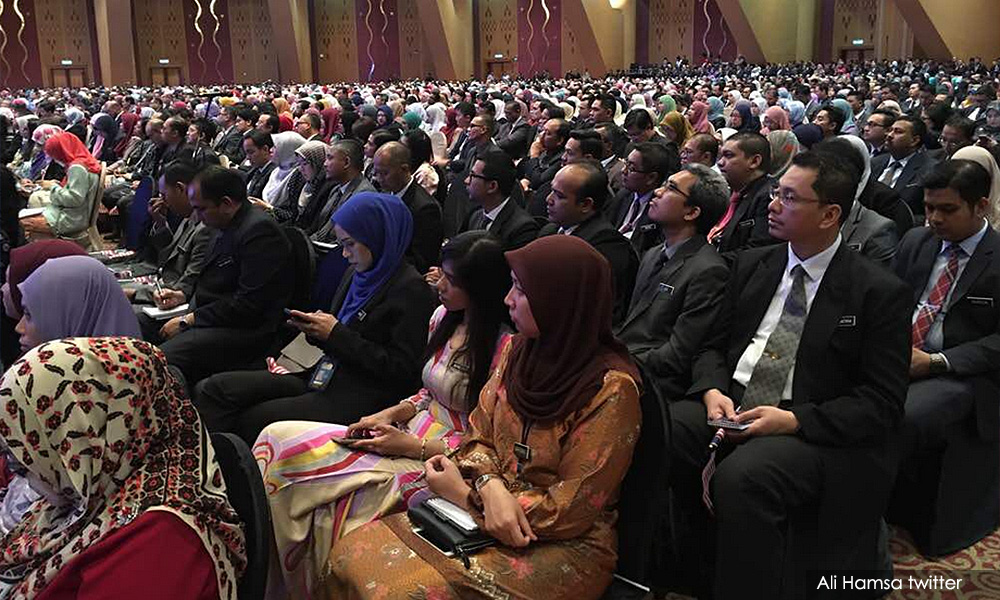 "I have been telling them, whether you like it or not, there are 1.6 million civil servants. And we are paying them every day.
"Can you imagine? One, plus a wife. Plus one child. (There are votes there, so get them on your side or) you are in trouble. You know?" he was quoted as saying.
Daim's remarks come just two days after Mahathir said that certain quarters, including those in the civil service, are unhappy with the Harapan administration due to its efforts to combat corruption.
"There are some who feel the government is not as good as the previous one because this government does not allow bribes," he had said.
"There are some who feel this government should not continue, but (the country) should go back to being a corrupt government which benefits them."
Mahathir had previously claimed that a culture of sabotage existed among civil servants in explaining the government's move to "clean up" its agencies and departments.
In March, his deputy Dr Wan Azizah Wan Ismail also reminded civil servants of different political affiliations not to sabotage the government, but serve the people.
***********
Finance Minister and DAP Secretary General Lim Guan Eng has been demonstrations his colours and becoming more of an irritant to Gerontocracy Prime Minister.
It has been said recently quite after the successful Sandakan by-election, he and several DAP leaders faced off and demanded that Gerontocracy Prime Minister put the specific timetable for his departure as the seventh Prime Minister and exactly when Anwar "Mat King Leather" Ibrahim to replace him as the eight Prime Minister.
Gerontocracy Prime Minister wasn't to pleased that he called his inner circle thereafter and they converged till 300am, to come to the solution of treating this matter.
Obviously Anwar "Mat King Leather" Ibrahim is impatient to come to power and DAP is doing the bidding for him.
BH story:
Tarikh dilantik PM ke-8 sedang dibincang – Anwar
BANGI: Tarikh untuk Presiden PKR, Datuk Seri Anwar Ibrahim dilantik menjadi Perdana Menteri kelapan, sedang dibincangkan bersama Tun Dr Mahathir Mohamad.
Ketika memaklumkan perkara itu, Anwar yang juga Ahli Parlimen Port Dickson, berkata perbincangan antaranya dengan Perdana Menteri itu berjalan baik.
"Soal tarikh dan sebagainya (mengenai pelantikan sebagai Perdana Menteri) biarlah beliau (Dr Mahathir) berbincang dengan saya seperti yang sedang berlaku dengan baik.
"Saya tidak ada masalah sama sekali kerana Dr Mahathir punya peranan pada masa sekarang dan beliau harus diberi ruang.
"Andai kata saya ambil alih (kepimpinan) pun, peranan Dr Mahathir tetap ada sebagai seorang negarawan yang banyak berjasa kepada negara kita. Saya tidak fikir isu (penyerahan kuasa ini) adalah masalah," katanya kepada media selepas menyampaikan ucaptama pada Konvensyen Belia Kebangsaan 2019 di Universiti Kebangsaan Malaysia (UKM) di sini, hari ini.
Beliau berkata demikian ketika diminta mengulas proses pelantikannya sebagai Perdana Menteri yang dijangka dalam tempoh kira-kira setahun dari sekarang, berdasarkan perjanjian dicapai bersama parti komponen Pakatan Harapan (PH) sebelum Pilihan Raya Umum Ke-14 (PRU-14).
Ditanya mengenai 'ulang tahun' pembebasannya daripada penjara yang genap setahun esok, Anwar menzahirkan rasa syukur dan memanfaatkan kebebasan itu dengan menemui pelbagai pihak dari dalam dan keluar negara menemui rakan lama.
Anwar mendapat pengampunan penuh Yang di-Pertuan Agong, Sultan Muhammad V pada 16 Mei tahun lalu selepas rayuan pengampunan penuhnya dipertimbangkan pada Mesyuarat Lembaga Pengampunan bagi Wilayah-Wilayah Persekutuan Kuala Lumpur, Labuan dan Putrajaya.
***********
In the week where PH celebrated its first anniversary of toppling BN for the Federal Government at the 14GE, they have very little to show for after a whole year.
Lim Guan Eng and DAP is not about to tow the line and kow-tow to Gerontocracy Prime Minister, which many are seeing of being himself all again.
DAP yearn for change and undoing everything in the system that has been practiced since day one Merdeka.
It is abundantly clear of their agenda that they wanted the minority to have control and power of the majority and any obstacle to prevent for such should be undone.
It is very interesting how Gerontocracy Prime Minister wants to play this and stop from Anwar and majority of his PKR faction plus DAP from coming to power and undo the 'Malay Agenda' and dislodge the power of majority completely and subject them to the rule by the minority.