Emperorissimo of DAP Chinese Chauvinism proven that he isn't what quarter-of-a-man that he ought to be and instead a demonstration of being a major cowardice when he backtracked on his challenge to former UMNO President Dato' Seri Mohd Najib Tun Abdul Razak for an open debate.
The Star story:

PETALING JAYA: DAP stalwart Lim Kit Siang has called off the much-anticipated debate with former prime minister Datuk Seri Najib Razak over fears that it may turn into a racial conflict.

"As there is a great likelihood that the debate on 'How Malaysia became a global kleptocracy and how we can become a leading nation of integrity' between Najib and myself could be turned into a Malay vs Chinese conflict… I have decided not to proceed with the debate with Najib," he said in his blog post on Thursday (May 23).

Lim noted that the debate between them should be "the battle against corruption, abuses of power and criminal conduct like money laundering", which is not a racial or religious issue, but an issue of good values and good governance.

The Iskandar Puteri MP said in the past 48 hours, he had received advice from many Malaysians, even those overseas, urging him not to debate with Najib.

Some of the advice include that Najib has nothing to lose, the people cannot see any benefit from the debate and that it can cause more harm than good.

Lim acknowledged that his decision will be greeted "with tempests of allegations that (he is) a coward".

"My 53 years of politics is an open book for Malaysians to judge whether I am a coward or not, and I am always prepared to subject myself to the judgment of Malaysians.

"However, there is one thing I will not compromise – the higher interests of the nation and Malaysians," he added.
Read more at https://www.thestar.com.my/news/nation/2019/05/23/kit-siang-calls-off-debate-with-najib/#TuPMzYurgIlTtW1s.99
***********
Former Prime Minister Najib got a whiff that the ruling Pakatan Harapan leaders felt that Emperorissimo Lim would likely lose the open debate, especially against facts presented.
Malaysiakini story:
Najib: I received info Harapan fears Kit Siang will be defeated
May 23rd, 2019 (Updated May 23rd, 2019)
Minutes after Lim Kit Siang issued a media statement announcing his withdrawal from a debate with Najib Abdul Razak, the latter said he received information that Pakatan Harapan was planning to pull the plug on the event.
In a Facebook posting this evening, the former premier said there were concerns within Harapan and DAP that Lim could be defeated.
"I notice that there are steps put in motion to cancel the debate. They are worried Lim might be vanquished in the debate," he added.
Lim had cited concerns that the debate could be used to stir up racial sentiments and denied that his decision was due to cowardice.
Meanwhile, Najib claimed there were also those in Harapan who are concerned that he would raise issues which Lim (photo) would find difficult to deflect, as well as expose the coalition's propaganda as lies and slander.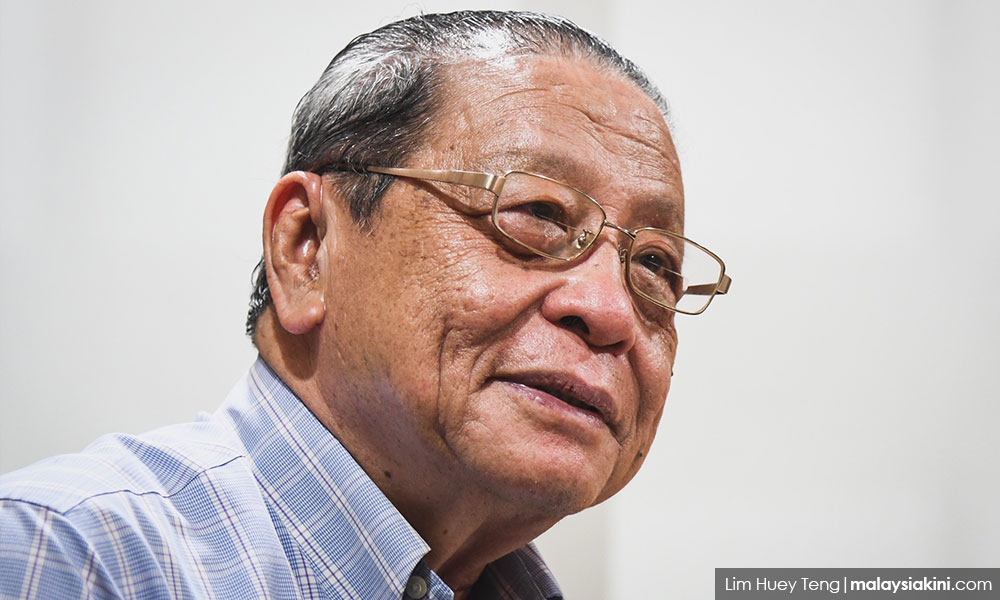 "Harapan should have full trust and confidence in Lim because he has been DAP's boss for more than 50 years.
"Harapan should know that nobody would be forced to watch the debate and that public funds would not be used for the event.
"In the spirit of democracy and transparency, let this debate proceed with the title suggested by DAP, which I had agreed to," he added.
The debate was first mooted by Najib in a recent media interview due to Lim constantly attacking him in the latter's media statements over the 1MDB scandal.
Following this, the DAP veteran, who accepted the dare, suggested that the debate be on "How Malaysia became a global kleptocracy."
Najib subsequently agreed to the title, but said that in fairness, other topics must also be included.
***********
It was Emperorissimo Lim who proposes that Former Prime Minister Najib ought to debate him on the topic of 'Kleptocracy'.
Malaysiakini story:
Kit Siang proposes debate on kleptocracy, says ball in Najib's court
DAP supremo Lim Kit Siang today proposed kleptocracy as a topic after former prime minister Najib Abdul Razak challenged him to a debate.
"Najib accuses me of being obsessed with him. He cannot be more wrong. I would not be interested in him one bit if he did not have the dubious distinction of being the single Malaysian who had wrought the greatest damage to Malaysia, both to the present and future generations, with his kleptocratic legacy.
"In the circumstances, should one debate with a kleptocrat, a pathological or habitual liar?
"Probably the best subject for debate is 'How Malaysia became a global kleptocracy and how we can become a leading nation of integrity'. The ball is in Najib's court," he said in a statement.
Najib, in an interview, said he had responded to Lim every time he issued a statement and that it would be better if they just had a "freestyle debate."
However, Lim said Najib's interview was not "spared of lies."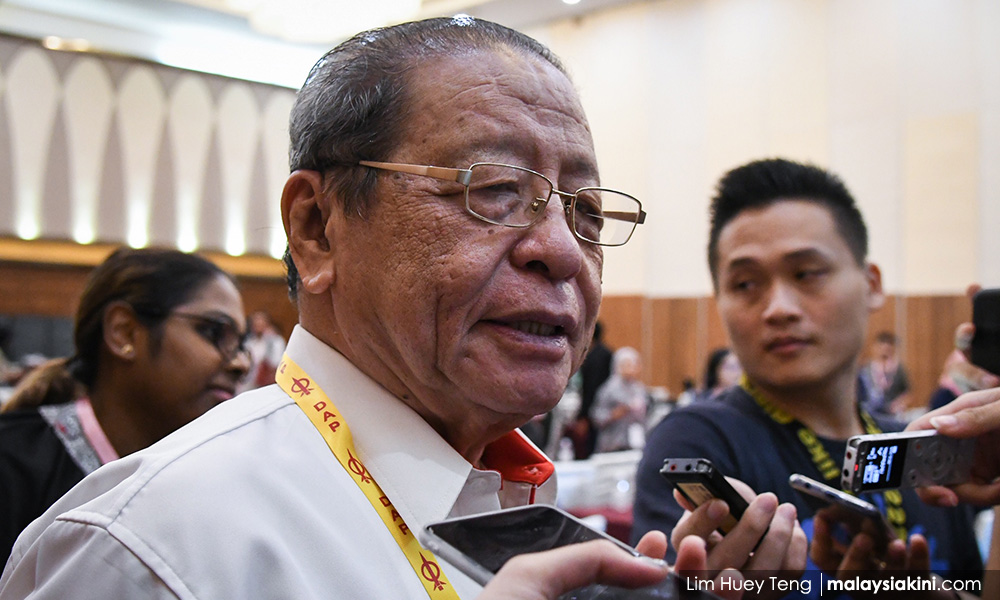 "Is Najib a pathological or habitual liar? …He said he answered me every time I made a statement, which is a downright lie."
Lim said there were several issues which Najib had not addressed despite being raised repeatedly.
Among these is the revelation by former MACC review panel member Lim Chee Wee, who said that Najib was not investigated for corruption as he had sacked the attorney-general.
Lim also pointed to claims by businessperson Deepak Jaikishan that Najib's wife Rosmah Mansor was the de facto prime minister.
The DAP leader added that Prime Minister Dr Mahathir Mohamad's observation that Najib had continued to act innocent despite the serious charges against him had gone unanswered.
Najib is facing 42 charges for corruption, money-laundering and abuse of power over the 1MDB scandal. He has denied any wrongdoing.
*********
The fact is that the open debate, which Former Prime Minister Najib counter challenge of Emperorissimo Lim's agreement for a debate would be proven disastrous for the ruling PH if not probably uncover the various sinister agenda of undermining the interests of the country, especially the Malays, who are the majority of Malaysians.
The deterioration of the performance manifested in management of the economy, the open opposition amongst Members of Government in likes the ruling party leaders, Hannah Yeoh Vs Khalid Samad, Azmin Vs Lim Guan Eng, Maszlee Malik Vs DAP and the Doyen of Crony Capitalism and Chairman of 'Majlis Orang-Orang Tua' Daim Zainuddin Vs Lim Guan Eng eroded more of their popularity if not confidence.
Underperforming Minister of Youth and Sports who is also PPBM Youth Chief Syed Saddiq insists that his Cabinet colleagues shouldn't attack the Education Minister Maszlee, especially on bias against the Malays on the Matriculation and Chinese controlled commerce issues.
Gerontocracy Prime Minister Tun Dr Mahathir Mohamad is obviously very displeased with the performance of the ruling party leaders in the Government, without sparing his own Cabinet members.
The fact that his Media Adviser Dato A Kadir Jasin did his bidding by sounding out underperforming Ministers and Deputy Ministers should quit, is a clear sign.
The Star story:

KLANG: Ministers, mentris besar, chief ministers and state executive councillors who do not meet the mark after a year in charge should relinquish their posts, says Datuk A. Kadir Jasin.